Oak Hill Elementary School visited Hinkle's Somerset Stone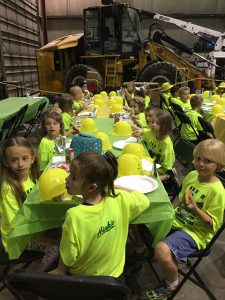 Kindergarten classes from Oak Hill Elementary School visited Hinkle's Somerset Stone on Friday May 4th. Hinkle was one of three local businesses that participated in the incentive program designed by local educators. The students were being rewarded for distinguished achievement in the classroom. 
While at Hinkle we talked about workplace safety and resources required for construction. Students were given a tour of the crushing plant while operating. They were amazed at all the different activities and the size of equipment being used to move aggregate from location to location. After a pizza lunch in our equipment shop the kids were able to view a production blast. 
Thank you to teachers and students at Oak Hill Elementary for allowing Hinkle to share a day with you.
Bourbon County Chamber of Commerce
Hinkle in conjunction with the Bourbon County Chamber of Commerce presented to high school juniors from Bourbon County and Paris City Schools. Students got to see a video depicting blasting, crushing, quality assurance and control, screening operations at our various quarries along with the manufacturing of asphalt paving materials. After the presentation students travelled to our Bourbon Limestone quarry.